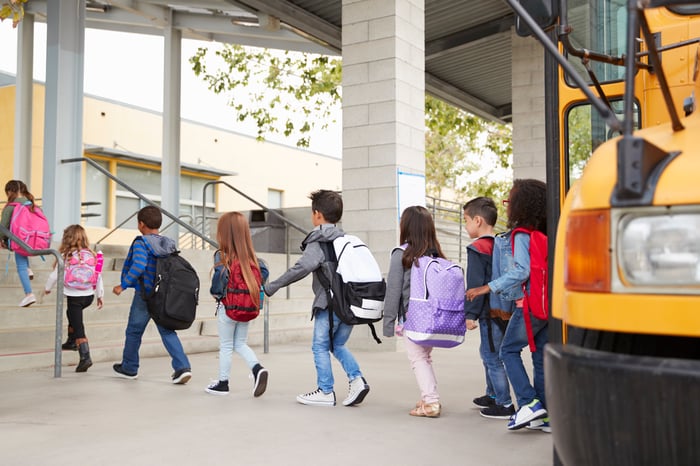 According to the Washington Post, up to 256,000 students have been exposed to gun violence in the school setting since 1999. Besides those that die in such incidents, others remain profoundly traumatized after witnessing such violence. Another research report by Everytown also reveals that schools have recorded 43 gunfire incidents in schools in 2021. The latter led to 19 injuries and 12 deaths.
School Safety Concerns
Although no U.S. School has witnessed mass shootings after the March post-pandemic reopening, some schools have recorded an increase in school shootings between April and June 2021. The latest incident involves a shooting at Robb Elementary School in Uvalde, Texas where tragically 19 lives were lost and 17 others injured.
A report by the National Center for Education Statistics on indicators of school crime and safety between 2009 and 2019 shows a decline in safety concerns among students. However, 7% of the students between grades 9-12 complained about being bullied, threatened, and given drugs on the school property.
Factors Hindering Safety in Schools
Besides gunfire, the school environment exposes students to threats such as the following:
Bullying in the school hallway
Gas leaks
Fire in the school
Weather events such as floods
In addition to the above risk factors, the COVID-19 pandemic also presented another security challenge in 2020 and 2021.
What Exactly Does School Safety Entail?
According to the National Center for Education Statistics, schools have a multi-tiered approach to identify a safety problem and devise response strategies to curb the identified risk. Various schools enhance their school safety by heightening awareness, installing security cameras in schools, and employing security personnel.
Proactive school leaders, such as superintendents, directors of schools, school boards, principals, and school resource officers have invested in modern alert systems and communication tools such as a school safety tip line. Others have also ventured into exploring emerging technologies such as artificial intelligence in enhancing safety.
Can AI Help Keep Our Schools Safe?
Artificial intelligence has enhanced efficiency in many human jobs. Its presence is evident in the medical industry and hospitality. Nowadays, disease diagnosis has become more accurate thanks to AI. However, AI cannot work alone. Its primary role is to complement human efforts by enabling always-on, intelligent monitoring, and accurate, proactive alerting to enable stakeholders to intervene as early as possible.
Companies such as IronYun USA Inc. have developed platforms such as Vaidio AI Vision, an All-in-One Platform with AI-based software and hardware that works with surveillance systems to identify risks and notify security personnel.
What is Artificial Intelligence?
AI technologies utilize machine learning to analyze events and predict possible outcomes. Institutions use AI to create a safer school environment. Intelligence-focused use of technology can monitor imminent danger from events such as a fire in the lab, smoke in the classroom, a student with a gun in the hallway, a student with a high temperature in school, and faculty gathering too closely.
With AI, school surveillance systems can isolate a student with a gun, detect smoke or realize a student seated too closely. Although sensors that can detect gunshots are available in schools, this is an after-the-fact identification that schools can prevent by deploying AI. The system should detect a weapon instead of gunshots.
Role of AI in Preventing School Violence?
United States schools that embrace artificial intelligence in heightening school safety employ qualified experts that use machine learning (ML) and artificial intelligence (AI) to prevent life-threatening attacks.
Security professionals discover security threats by analyzing student data obtained from their social media and email accounts. Such data isolates inappropriate behavior such as drug abuse, depression, explicit messages, and online bullying in school. Besides, the system can also identify students that pose a threat to themselves.
Nonetheless, the essential role of AI is to notify parents, security personnel, and school administrators by triggering an alert depending on the severity of any threat in school. These people can then conduct follow-up investigations to assess the situation and intervene appropriately. They can also continue to monitor the situation for future changes if it does not pose an imminent danger.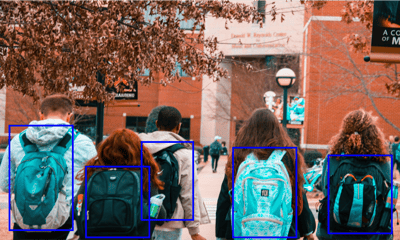 Ways To Increase Safety With AI Technology and School Video Surveillance Systems
Technology has revolutionized different systems, including video surveillance. School security measures are also shifting from CCTV cameras and metal detectors to AI-based solutions. Schools should deploy AI-designed solutions to stay vigilant and secure every part of the school.
Read on the understand different ways schools can incorporate AI within their video surveillance systems to alert stakeholders at the first sight of threats. The latter will consequently minimize risks at school.
1. Using AI to Control Access To school
The first place that schools should begin to enhance security is by monitoring access into and out of the school premises. Most public and private schools have installed security measures such as security doors at the most vulnerable points of the compound.
Others include a system that allows access through a door controller and a multi-format card reader. AI-assisted access control and surveillance can help keep schools safe. AI models are taught to enhance security in the following ways:
They allow security personnel to monitor live feeds and real-time data of activities in the school compound
The system will enable people to integrate visual support through video cameras seamlessly
Security personnel can manage users, doors across the entire school
The system can instantly lockdown in case of intrusion or emergency.
School officials can use the Vaidio AI Vision Platform for real-time alerts to warn the students and staff of impending danger within the school premises.
2. School Should Use AI to Prevent Unauthorized Access in the School
Most gun violence shootings often originate from carefully planned strategies. For instance, the perpetrators trigger fire alarms to get more victims in the hallways and assembly points. School officials include AI in the surveillance control system to prevent access to restricted areas to heighten security in schools.
Access control systems can include license plate recognition and facial recognition applications that enhance security in school premises. Besides, people and vehicle counting applications on the Vaidio AI Vision Platform can also track student patterns and help school officials conduct assessments. Such strategies can help school administrators prevent an outburst of a violent incident in school.
3. School Officials Can Use AI to Isolate Threats
Potential targets in schools remain random. As a result, it is challenging for school officials to establish a connection between a threat and a perpetrator due to many learners. Schools often do not have enough resources for a broad investigation.
Fortunately, AI platforms such as Vaidio have Google-like video search tool that allows school officials to search through hours or days of video in minutes, eliminate false leads and save time to focus on potential targets. Besides, rapid video searches of past events can help school officials and security personnel prepare a security strategy for the institution.
AI models are taught to sift through hundreds of video and audio files faster than humans. Security personnel can identify apparent hazards. The school's officials use AI platforms to evaluate data from the institution's surveillance system.
School officials can use the Vaidio AI Vision Platform for forensic investigation.
4. Schools can Use AI for Analysis
AI models are taught to sift through hundreds of video and audio files faster than humans. Security personnel can identify apparent hazards. The school's officials use AI platforms to evaluate data from the institution's surveillance system.
School officials can use the Vaidio AI Vision Platform for forensic investigation.
5. Schools Can Use AI in Dash Cameras and GPS Tracking for Their Buses
Students' safety while on transit also matters. School administrators should incorporate AI in monitoring and protecting their students. In addition to building-based protocols, the school should also include on-transit security measures. An effective AI-designed GPS tracking or dash camera system should detect and report the following:
Distracted driving
Irresponsible driving such as over speeding and harsh breaking
Tailgating to prevent accidents caused by vehicles following others too closely
Rolling stops
6. AI technology in Asset Monitoring
School administrators can use technology to monitors the school environment and report real-time data about humidity and temperature logs that affect the buildings' structural integrity. AI in asset monitors placed in different equipment in the school compound. This progressive technology can also conduct diagnostics and alert school administrators about potential danger.
7. IA Technology in Environmental Sensors in The School Compound
School administrators can receive proactive alerts about environmental changes. Air quality is among the environmental factors that affect students' and faculty health. The officials should install AI sensors that work seamlessly with video cameras to send alerts on the following readings:
Smoke in the school premises
Noise
Air quality
Temperature changes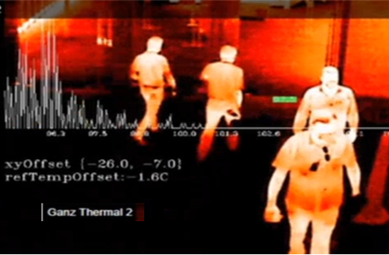 8. Schools Can Use Vaidio-Ganz Temperature Detection
The Vaidio-Ganz solution combines Vaidio AI Vision software and Ganz thermal cameras to present a temperature screening system that detects high temperatures and warns school administrators in the current health crisis. Schools that require such high-temperature screening can use this AI-enabled thermal camera that works with the video intelligence platform to measure multiple temperatures in the school premises. Uniquely, the Vaidio-Ganz solution can accurately measure temperatures of up to 100 people per minute, at normal walking speed.
9. AI Technology for Social Health Analytics to Improve Student's Safety
Schools should operate more safely as they have reopened after the pandemic. They require a secure and accurate system that monitors and reports social factors such as temperature, masking, occupancy, and distancing.
The Social Health Analytics by Vaidio improves overall safety by analyzing images from any IP video camera and alerting the administrators not just to high temperatures, but to the absence of masks, and whenever distancing or occupancy thresholds are exceeded.
Use Vaidio AI Vision Platform to Improve School Safety Today
IronYun presents AI-designed solutions that school administrators, officials, and stakeholders can use to enhance the safety of their students.
Vaidio AI-enabled weapons detection, intrusion detection, cross-camera tracking, facial recognition, and audio-gunshot sensor detection can identify threats faster and accelerate threat response.
Contact IronYun for a free quote and demo to begin your journey on enhancing your school's safety with the most reliable cloud-based solutions today.