IronYun continuously upgrades and adds functionality to the Vaidio Video Intelligence Platform to improve accuracy, increase performance, and add convenience. In Vaidio version 5.0, there are many new features and updates. These include:

New Analytics
Identity Recognition: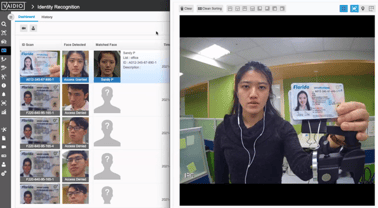 Vaidio's newest innovation allows users to assign an ID number to a face in the user's database. The ID and face can then be presented in front of the camera side by side as shown. Then, Vaidio will match the detected face with the ID image, and then check for a match with an ID number in the database. This function can be implemented with access control systems to allow/disallow people access based on whether or not their identity matches. In Vaidio 5.0, only Florida licenses are supported, with many more states/regions in the works.


Analytic Enhancements
Improved Engines:
People Counting

Make & Model

Age & Gender model
Search Attributes: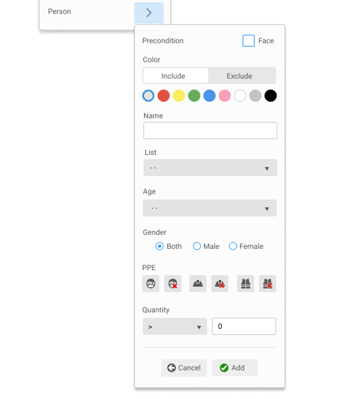 In Vaidio 5.0, the user can input a person's name as a part of search filtering as well as any list they may be a part of for further specification and narrowing of search results. Now, the user can search for a person based on their face, list, name, color of clothing, age, gender, as well as any personal protective equipment.
Added Real-time Alerts:
Identity Recognition

Users can now receive real-time notifications when the access is granted or denied based on the Identity Recognition function.

People/Vehicle Counting

Alerts can now be triggered based on the number of people who enter or leave a certain area.

FR Name and List in Video Search

Now that name and face list are included in Video Search criteria, users can use these when defining new alert rules.
Scene Details: ROI & Metadata:

Users can now get real-time alerts with the ROI and metadata included on the thumbnail. The metadata includes analytics type, alert name, and scene details, such as the detected object type, license plate number and list, face name and list, etc.
System Upgrades
New NVR Integration:



Video File Camera Type:
Vaidio 5.0 allows the user to use uploaded video files as live streams. As with any other live stream, the user can perform real-time search and analysis.
New Vaidio Cam APP:
Vaidio Cam is a new mobile application that allows users to use their smartphone as a live camera feed in Vaidio. Vaidio Cam supports Face Recognition and License Plate Recognition. It will match the detected face or license plate with the corresponding one in the Vaidio database, and then show the result right on the screen in the app.